Your face reflects your emotions and internal state of being. Our estheticians are trained to read the face and to understand and work with internal imbalances. All facials include a face, neck and scalp massage, as well as heated mitts and booties for the hands and feet. Our nourishing facial treatments will add health and beauty to the most expressive part of your body. To keep your skin healthy and clear, follow the skin care regime prescribed by your esthetician.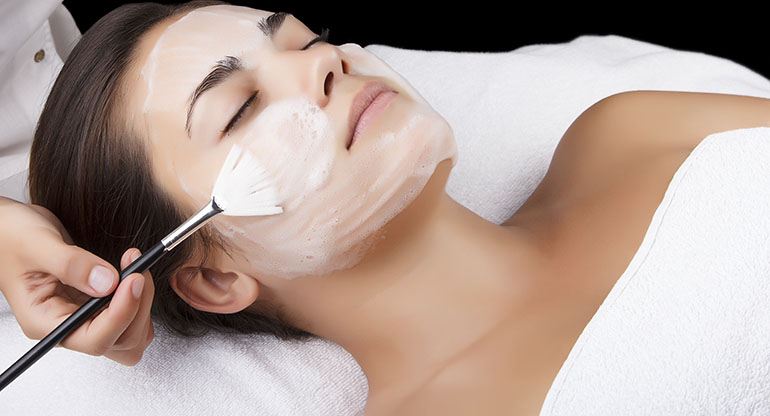 Rejuvenation Signature Facial
This treatment utilizes purifying ARCONA professional products to purge impurities from the skin. Your senses will be delighted as you take in the natural aromas, the wonderful feel of the products, and the generous hands on experience. Extremely effective for all skin types. The fresh new face that emerges will be glowing!
Includes limited extractions. Add on a deep pore cleansing to allow ample time for the full benefit of the extraction process while indulging in total relaxation.
$110
Microdermabrasion Parisian Peel
Restore the beauty that is you. Microdermabrasion uses very fine crystals and mild suction to remove the dead outer layer of skin. Through the process of "resurfacing," healthier, smoother and younger looking skin is created. Excellent for enlarged or oily pores, blackheads and whiteheads, fine lines, acne scars, hyperpigmentation and sun damaged skin.
Initial Consultation* $30
Face $100
Neck $50
Face with Neck and Decollete $160
Decollete $50
*Consultation fee waived with microderm booking
Men's Signature Facial
This treatment is tailored to address the special conditions of a man's skin. Experience the beneficial effects when the skin receives a deep cleansing along with masks and herbal blends to tone and revitalize the face. The added benefit of a relaxing face and neck massage will erase the signs of stress.
$110
Renewal Facial
Designed to meet the needs of your specific skin type, this facial can address sensitive skin, dehydrated skin, couperose, acne-prone skin and corrective anti-aging care. Using the dermo-corrective G. M. Collin skin care line exclusively, the goal is to improve skin and stimulate it for greater receptivity to your daily home care program.
$135
Enzyme Peel Facial
Our ARCONA Customized Enzyme Peel Facial is a revitalizing treatment that deeply exfoliates the dead, damaged layer of skin, unveiling fresh, glowing, beautiful skin. By having ARCONA Enzyme Peels periodically, the body is stimulated to manufacture new skin, creating a stronger, healthier, younger look. ARCONA's natural organic fruit enzyme peels are customized for each particular skin type.
$135
Balancing Facial with Lymphatic Massage*
Following the same format as our Signature Facial, this treatment utilizes a specific gentle massage technique designed to assist in the drainage of stagnant cellular fluid. Through the elimination of toxins and promotion of increased nourishment, the skin achieves balance, resulting in a clearer complexion and improved tone and color. Beneficial for wrinkles due to dehydration, puffy skin and acne prone complexions, and as a series of treatments before and after cosmetic surgery.
*The lymphatic massage technique we employ is technically titled: Dr. Vodder's Manual Lymph Drainage.
1¼ hour $135
PureAcne Oxygen Facial
This oxygenating treatment is designed to clear skin congestion, control breakouts and revitalize fatigued, stressed and dull skin. The 5-step treatment utilizes AHA/BHA acids and a unique Oxygen Complex, to normalize, detoxify and hydrate the skin back to its natural radiance and glow. The skin becomes luminous, moisture-balanced, and younger looking.
For maximum efficiency, one treatment per week is recommended for five consecutive weeks.
$135
Enzyme Peel for Rosacea
A gentle, skin strengthening, activating Enzyme Peel that will help balance the challenges of Rosacea. Normalizes weakened skin, while balancing color and texture for a smooth, even appearance. Leaves face fresh, purified and incredibly sooted.
$135
Deep Cleansing Back Treatment
Helps control back and shoulder break-outs. Includes exfoliation, deep pore cleansing and special mask.
$110